2019-11-08 18:47:59
2019 Homes are Still Selling Quickly (Infographic)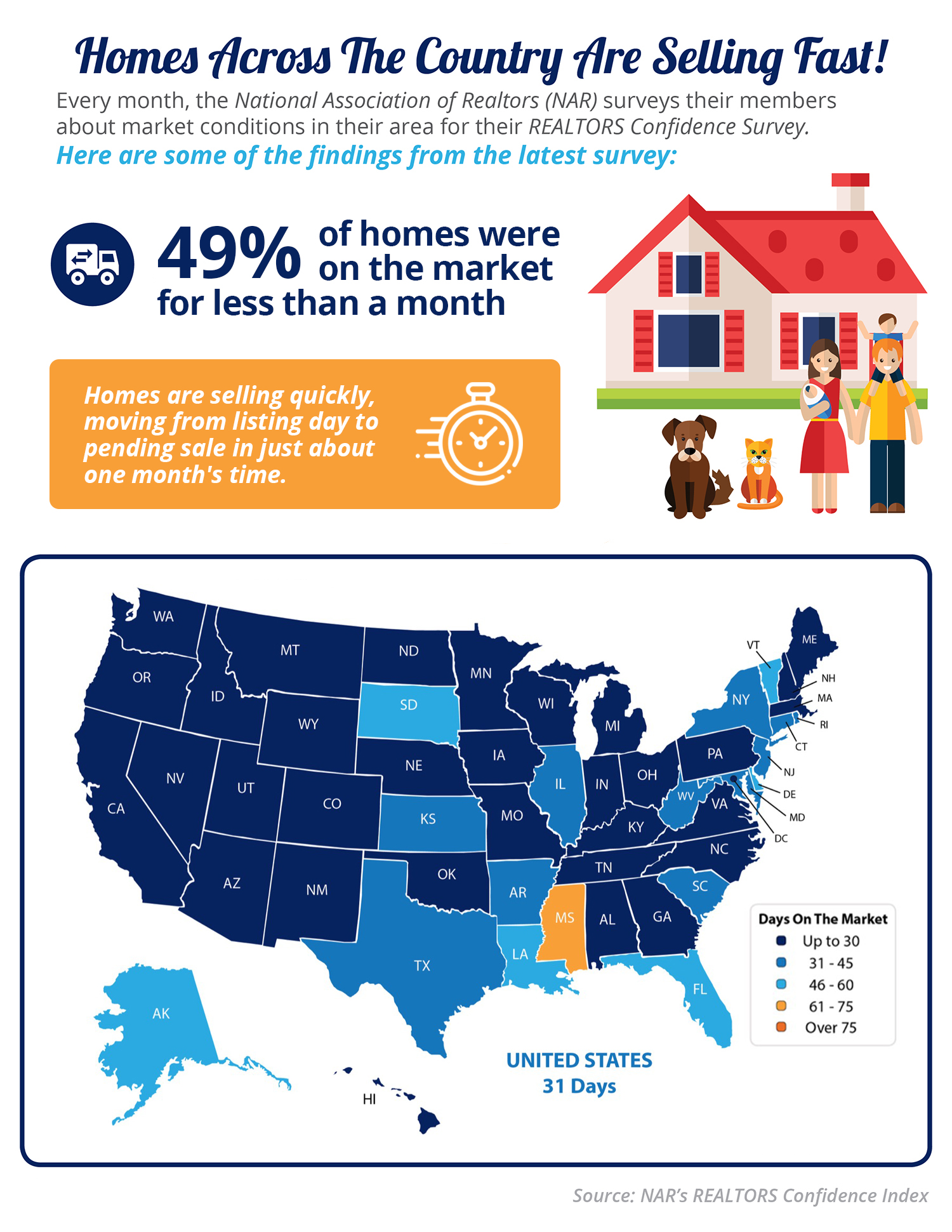 Some Highlights:
The National Association of REALTORS® surveyed their members for the release of their Confidence Index.
The REALTORS® Confidence Index is a key indicator of housing market strength based on a monthly survey sent to over 50,000 real estate practitioners. Practitioners are asked about their expectations for home sales, prices, and market conditions.
Homes across the country are selling quickly, in an average of just 31 days.
49% of homes sold in less than a month.

Subscribe to RSS Feed
Blog Archive
2020-01-23 20:21:32
Are homes still affordable?
2020-01-13 21:58:41
How purchasing a home early significantly increases your wealth
2019-12-26 20:34:36
How to improve your curb appeal
2019-11-30 17:55:04
Utah County November Housing Market Update
2019-11-25 20:23:16
Real Estate Terms We Should Retire in 2019
2019-11-22 18:32:21
With Mortgage rates so low, now is the time to buy
2019-11-21 20:08:32
Why I love Real Estate
2019-11-18 14:55:50
2 Myths Holding Back Home Buyers
2019-11-08 18:47:59
2019 Homes are Still Selling Quickly (Infographic)
2019-10-26 13:05:25
Best and Worst Remodel Projects
2019-10-18 10:25:51
2019 Ends with homes selling quickly
2019-10-01 08:54:02
How to choose a home inspector
2019-09-23 08:51:18
What Buyers Need to Know About HOA
2019-07-16 11:43:14
Why live in Utah? It is a great place!
2019-07-07 18:33:48
Salt Lake Metro still one of the hottest real estate markets
2019-07-07 18:25:43
Where are the most expensive places to live in Utah?
2019-06-20 17:08:25
What is Private Mortgage Insurance?
2019-05-03 11:54:12
Utah Driver's License Renewal
2019-05-02 12:43:38
Orem Garage Sales Codes and Regulations
2019-04-25 17:38:23
What is the best time to sell a home in Utah
2019-04-13 20:46:10
How is Utah County Property Tax Distributed
2019-04-13 20:39:33
Salt Lake Metro is 7th Fastest Price Increase
2018-09-28 09:16:28
October 2018 is a Great Time to Buy
2018-09-27 21:42:07
How Are Utah Property Taxes Used?
2018-09-06 13:42:03
Home Sales Cool Summer of 2018
Click here to see ALL articles.